At Group level, we measure the performance of the business using a number of key performance indicators ('KPIs'). These help to ensure that we are delivering against our strategic priorities.
Several of these KPIs (underlying EPS, return on investment and leverage) influence the remuneration of our executive team.
Certain KPIs are more appropriately measured for each of our operating businesses, whereas other KPIs are best measured for the Group as a whole.
Link to strategic priority
Build a broad platform for growth
Operational excellence
Maintain financial and operational flexibility
Calculation
Underlying Group profit after taxation divided by the weighted average number of shares in issue (excluding shares held by the Company and the ESOT).
Target
As a cyclical business, underlying EPS varies substantially through the cycle.
2020 performance
Underlying EPS was 175p per share in 2019/20.
Strategic priority
RETURN ON INVESTMENT ('RoI') (%)*
Calculation
Underlying operating profit divided by the sum of net tangible and intangible fixed assets, plus net working capital but excluding net debt and tax.
Target
Averaged across the economic cycle we look to deliver RoI well ahead of our cost of capital, as discussed in our strategic review.
2020 performance
Our RoI was 15% for the year ended 30 April 2020, reflecting the impact of the COVID-19 pandemic on fourth quarter performance.
Strategic priority
NET DEBT AND LEVERAGE AT CONSTANT EXCHANGE RATES*
Calculation
Net debt is total debt less cash balances, as reported, and leverage is net debt divided by underlying EBITDA, calculated at constant exchange rates (balance sheet rate).
Target
We seek to maintain a conservative balance sheet structure with a target for net debt to underlying EBITDA of 1.5 to 2.0 times (excluding IFRS 16).
2020 performance
Excluding lease liabilities arising under IFRS 16, net debt at 30 April 2020 was £4,251m and leverage was 1.9 times.
Strategic priority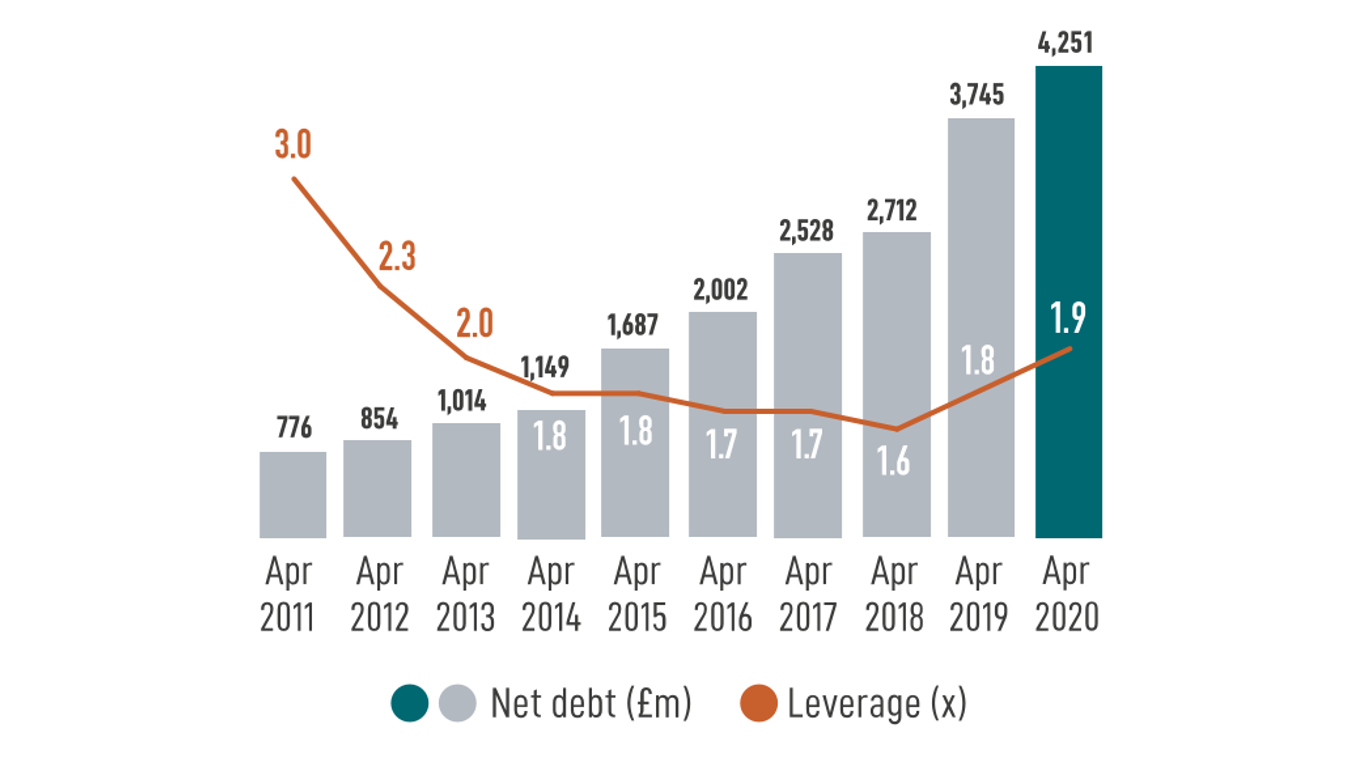 Calculation
Physical utilisation is measured as the daily average of the amount of itemised fleet at cost on rent as a percentage of the total fleet at cost and for Sunbelt US is measured only for equipment whose cost is over $7,500 (which comprised 97% of its itemised fleet at 30 April 2020).
Target
It is important to sustain annual average physical utilisation at between 60% and 70% through the cycle. If utilisation falls below 60%, yield will tend to suffer, whilst above 70% we may not have enough fleet in certain stores to meet our customers' needs.
2020 performance1, 2
Sunbelt US utilisation was 68% (2018/19: 71%), while Sunbelt UK utilisation was 68% (2018/19: 69%) and Sunbelt Canada was 61% (2018/19: 61%).
Strategic priority
FLEET ON RENT ($m/£m/C$m)
Calculation
Fleet on rent is measured as the daily average of the original cost of our itemised equipment on rent.
Target
To achieve growth rates in excess of the growth in our markets and that of our competitors.
2020 performance1
In the US and Canada, fleet on rent grew 9% and 15% respectively in 2019/20, while in the UK it reduced by 3%. The US market grew 6%, the Canadian market by 1% and the UK market was flat.
Strategic priority
Calculation
Dollar utilisation is rental revenue divided by average fleet at original (or 'first') cost measured over a 12-month period.
Target
Improve dollar utilisation to drive improving returns in the business.
2020 performance
Dollar utilisation was 51% in the US, 47% in Canada and 46% in the UK. These reductions reflect the impact of the COVID-19 pandemic in the fourth quarter and resulting reduction in the activity levels.
Strategic priority
UNDERLYING EBITDA MARGINS (%)
Calculation
Underlying EBITDA as a percentage of total revenue.
Target
To improve or maintain margins and achieve peak EBITDA margins of 45-50% in the US during this cycle, 40-45% in due course in Canada and 35-40% in the UK.
2020 performance
EBITDA margins in 2019/20 were 50% in the US, 32% in the UK and 37% in Sunbelt Canada.
Strategic priority
Calculation
Staff turnover is calculated as the number of leavers in a year (excluding redundancies) divided by the average headcount during the year.
Target
Our aim is to keep employee turnover below historical levels to enable us to build on the skill base we have established.
2020 performance1
Turnover levels have reduced across the business. Voluntary employee turnover is discussed in our Annual Report. Our well-trained, knowledgeable staff remain targets for our competitors.
Strategic priority
Calculation
The RIDDOR (Reporting of Injuries, Diseases and Dangerous Occurrences Regulations) reportable rate is the number of major injuries or over seven day injuries per 100,000 hours worked.
Target
Continued reduction in accident rates.
2020 performance
The RIDDOR reportable rates of 0.30 in the US and 0.19 in the UK were lower than the prior year. For Canada, the RIDDOR reportable rate was 0.34.
More detail is included in our Responsible business report.
Strategic priority
* Linked to remuneration
1 No data is available for Canada for 2018 on a comparable basis due to the acquisition of CRS in August 2017.
2 Physical utilisation for Canada excludes the impact of William F. White in the year.