The third of our strategic actionable components is advancing the way we use technology. We plan to make the move from being an industry-leading technology platform to being a leader among the broader industrial and service sector, further improving our customer value proposition and capturing benefits of scale across the Group. We intend to do this by: leveraging our experience, culture and the data we accumulate day to day; making what we create, sustainable and scalable; building a technology-driven ecosystem; enabling ecommerce across all channels; ensuring we improve further our customer value proposition of Availability, Reliability and Ease; and migrating our common applications to a group-wide platform.
We have a robust technology infrastructure which supports our proprietary systems with the aim of continuous improvement to enable The Perfect Rental™. With c. 65% of orders placed today for delivery within 24 hours, our goal is to enable our sales force to say 'Yes' confidently, through the use of our proprietary cloud-based sourcing decision engine, Chronos. Although Chronos is operational in all our locations across North America, we continue to make the system ever smarter and more flexible, such that it can deliver improvements in procurement opportunities, service operations, logistics and our management of resources. During the 3.0 period we will be focused specifically on increasing order capture, improving time utilisation, improving rental rates and enhancing dynamic pricing.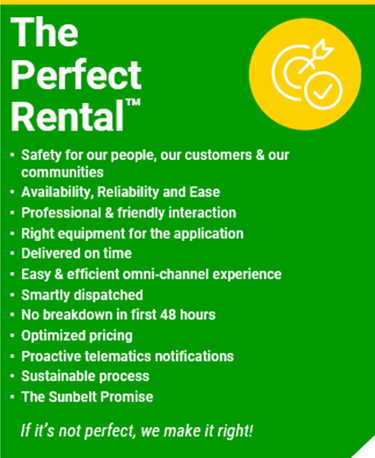 Amplify Speciality
The second of our actionable components is to drive accelerated growth through recently realised Specialty scale, unique cross-selling capabilities, and rental penetration.
Lead with ESG
The fourth of our actionable components is to embrace responsible sustainability and success for our people, our customers, our communities and our investors.