Health and safety
Health and safety is the backbone of our business and culture. COVID-19 has highlighted that more than ever. A strong reputation for excellent health and safety is a significant competitive advantage for us. In addition, an ever-changing regulatory focus on safety and more stringent requirements for all operators continues to assist our growth. It is more efficient to outsource responsibility for equipment safety to us than for customers to manage it themselves. This has been one important factor in the shift to rental that has underpinned our growth in North America and which has reinforced our position in the UK.
Our extensive health and safety programmes monitor, develop and maintain safe working practices while reminding our employees of the need to be safe at all times and look after their own health. Our continued improvement is accomplished through a combination of proactive safety and leadership training, enhanced safety programmes and timely incident response and investigation. We also help our customers ensure the safety of their own employees including providing safety training as required. In addition, we make a considerable annual investment in ensuring our rental equipment meets or exceeds the latest safety standards, as well as providing health and safety advice and materials along with each rental.
How we monitor performance
We monitor health and safety by the number of reported incidents that occur during our work. We track and analyse all incidents and 'near misses' to enable us to identify recurrent issues and implement preventative improvements. The importance of health and safety is reflected in the fact that the number of reportable accidents is one of our group-wide KPIs.
We continue to develop and improve our incident management system which enables us to manage incidents while allowing us to investigate, analyse root causes and track corrective/preventative actions. The tracking and reporting of 'near misses' is an area we are looking to improve as the lessons learnt are as instructive or often more so, than from actual incidents.
Safety initiatives
COVID-19 has tested our excellent health and safety reputation and reinforced it massively. Operationally, we have changed the way we work to ensure our team members remained protected while continuing to work across our store network, ensuring we met the needs of our customers and communities. Aligning with government guidance and recommendations, we enhanced equipment and facility cleaning protocols, installed barriers to ensure social distancing in our stores and implemented curbside service to reduce customer traffic in our locations. We created additional training and videos for our teams related to face coverings and respirators, proper removal and disposal of gloves, and disinfecting equipment. Like most organisations, we removed all but essential travel and stopped international travel, and moved online for meetings and training, etc.
In the absence of travel and face-to-face meetings, we introduced virtual Wellness visits to discuss local matters, training and the response to COVID-19 to ensure we maintained dialogue with our team members and could respond in an agile manner to employee feedback.
We recognise that everyone must take responsibility for their own safety and the safety of others. In North America, our Engage for Life programme is built on three pillars: culture, community, and commitment. We are focused on building a culture that eliminates serious injuries or fatalities (SIFs), aligns our best practices, and ensures we all have the right skills to complete work safely. In the UK, similar programmes exist and our Work Safe Home Safe campaign is designed to ensure staff take responsibility for their own safety.
Working with our customers and suppliers
Being a responsible business means sharing and promoting our safety culture with our customers and suppliers whenever possible. For example, we have dedicated aerial work platform, forklift and earth moving operator trainers who train customers and we offer customised training programmes to fill their needs. We work with customers' safety teams to develop customised training courses, sometimes for a specific jobsite and participate in training days for major customers, demonstrating safe use of equipment and running training seminars. This is in addition to the routine safety briefings that accompany equipment rental. We now offer dedicated full-time safety trainers for our customers in 50 markets across North America and have 18 accredited training centres in the UK.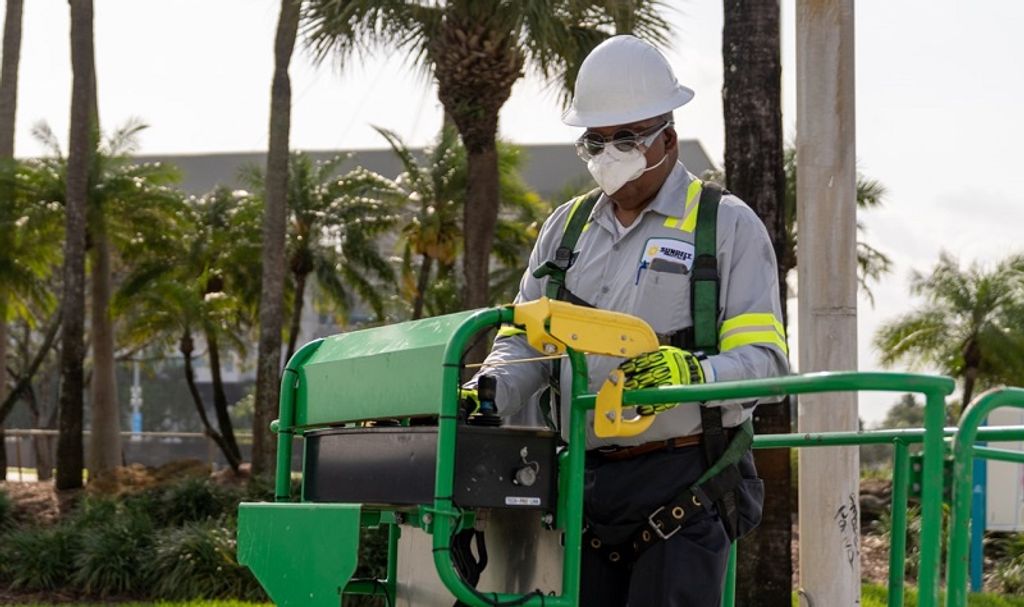 Human Capital
We know that a skilled and committed workforce is fundamental to our success. Our labour management policies are designed to ensure we take the very best care of our people. For example, we took decisions very early on in the COVID-19 pandemic to prioritise our employees, ensuring that we were able to continue treating everyone fairly and with respect. We made clear our absolute commitment to them and quickly communicated that we would not make any team members redundant or put them on furlough. That immediately removed any job-related fear and allowed them to carry on doing the very best they always do for our customers and communities.
Career development and training
Training and development continues throughout the careers of our employees and we have many programmes in place to ensure they achieve their ambitions, reach their potential and remain safe, as outlined above. Employees' welfare and job satisfaction are enormously important and we invest significant money and time in facilitating career development and evolving training to reflect the changing needs of our workforce.
Reward and benefits
We use a combination of competitive fixed pay and attractive incentive programmes to reward and motivate staff and these drive our profits and return on investment. All eligible Sunbelt UK employees are paid the Living Wage (as recommended by The Living Wage Foundation) and Sunbelt UK is an accredited Living Wage Employer. In North America we adopted a Leading Wage to ensure all employees are paid an hourly rate in excess of the state and federal recommended rates.
We provide a comprehensive package of benefits ensuring they represent affordable and smart choices for employees. Each benefit offering has been designed to work with another, providing a financial safety net that serves those employees in need, as well as providing us all with a proper sense of security.
Our sales force is incentivised through our commission plans which are based on sales, both volume and price achieved, and a broad measure of return on investment determined by reference to equipment type and discount level. We flex our incentive plans to reflect the stage of the cycle in which we operate, which we believe is an important element in retaining the confidence of our workforce through the economic cycle.
In addition to their core benefits, including pension and life assurance arrangements, we have an employee assistance helpline which offers free confidential support and advice to those in need. We also have other benefits to promote good health amongst our employees.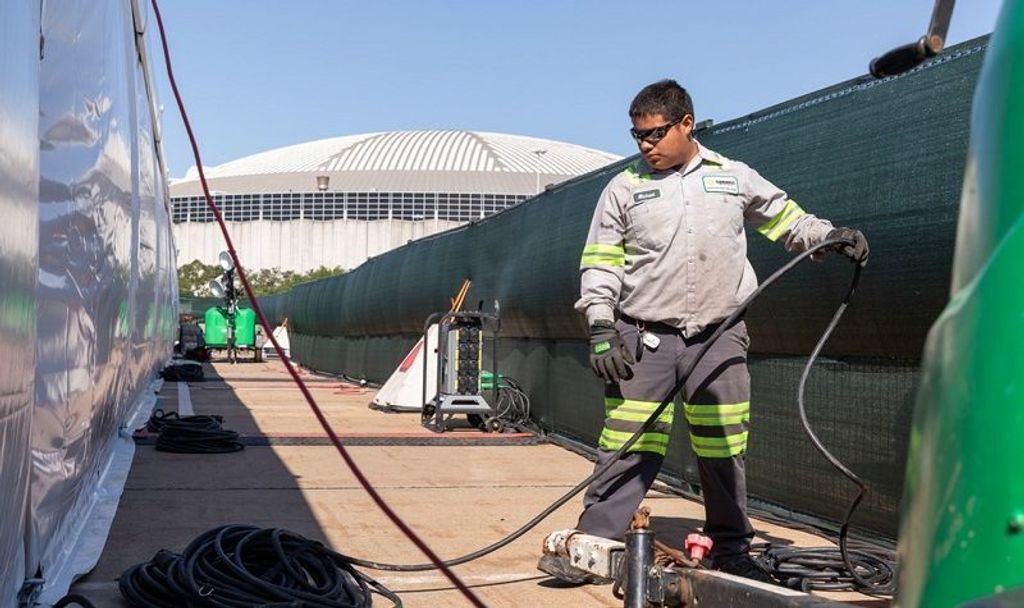 Social opportunities
Diversity
Providing equal opportunities for all our staff is a priority for Ashtead. Our recruitment comes predominantly from the areas immediately around our facilities thereby providing opportunities for local people and a positive impact on their community. We make every reasonable effort to give disabled applicants and existing employees who become disabled, opportunities for work, training and career development in keeping with their aptitudes and abilities. We do not discriminate against any individual on the basis of a protected status, such as sex, colour, race, religion, native origin or age.
Employee wellbeing
We believe in treating our staff well and rewarding them for the effort they put in on our behalf. It is crucial that our workforce is a healthy one and we work hard to look after our people and help them look after themselves. When our staff are on top form, they provide the best service to our customers. We are also there to help when they find themselves in difficulties.
Needless to say, we have prioritised the health and well-being of our staff and their families during the COVID-19 pandemic. We set up a daily screening app in North America that required employees to evaluate their exposure risk prior to coming to work. We have shielded vulnerable teammates, adapted our environments to become COVID secure and adjusted working patterns to ensure we have still been able to deliver for our customers as an essential services provider, without compromising anybody's health. At the end of February 2021 we launched our own mobile and permanent lateral flow testing units in the UK.
For more information on our performance in this area see our annual report.