Playing a big role in our local communities is crucial in all our markets and massively important to our sense of purpose as an organisation. As we expand our market share, particularly in the US and Canada, we have ever more impact and influence, enhancing the communities in which we operate, through employment, opportunity and community involvement. Our responsibility to these communities increases as we grow. It is crucial to us that we recruit locally when we can, including young people, long-term unemployed and veterans. We believe the skills and discipline gained through military service translates well into our work environment.
Community engagement
Working with local charities is very important to us. We also have a huge impact on both our own communities and those further afield through our disaster relief work with communities in distress from a wide range of factors. We are a first responder when it comes to natural disasters, restoring communities and conducting massive clean-up operations after storms and floods, for example.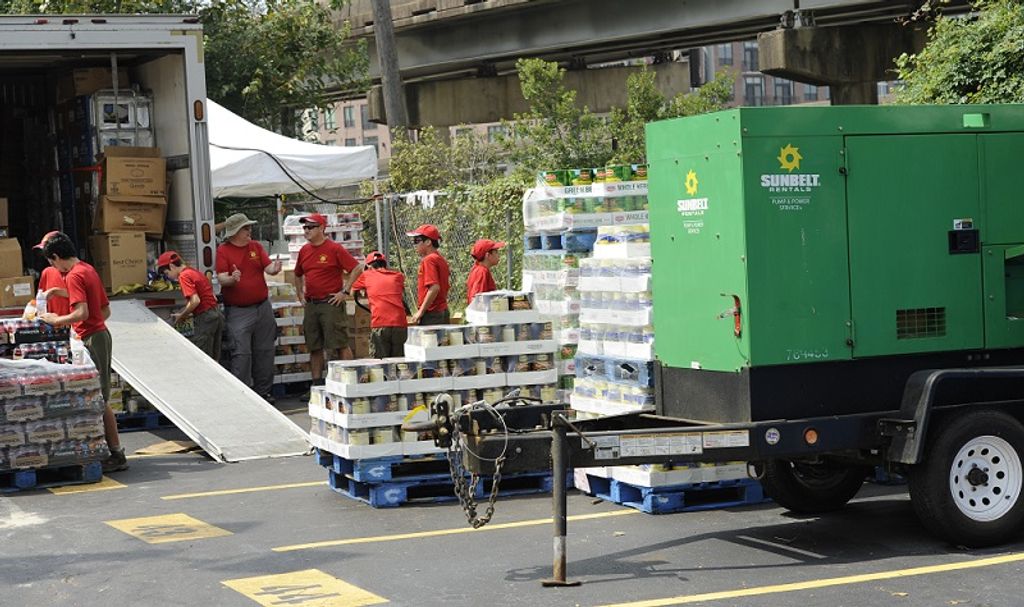 Recruitment
With our continued rapid growth, recruiting new employees is of the utmost importance. Our recruitment efforts are not only focused on finding the right employees and communicating the benefits of working for Sunbelt, but bringing awareness and excitement about the opportunities we provide. Our focus is on improving and standardising our recruitment and onboarding processes to reduce the level of turnover in the first two years.
UK apprenticeship programme
The UK's apprenticeship programme continues to win awards for being one of the most successful and highly valued schemes in the equipment rental industry. Our apprentice programmes take between one and three years to complete and usually include outside training and a formal NVQ qualification, in addition to on-the-job training. We have six apprentice streams – plant maintenance, customer service, driver, electro technical, mechanical engineering and civil engineering.
Military recruitment
In the US, one of our most successful initiatives has been our work with the US military providing opportunities for quality veteran recruits looking to apply some of the skills they have learnt to a civilian career. They bring leadership and people skills and an ability to work under pressure - skills that are only gained through experience. By launching a series of high profile campaigns supporting our veterans, while still upholding our tradition of attending military job fairs, we intend to be a true leader in veteran employment. From soldiers and sailors to airmen and marines, these veterans choose us because they believe in the way we do business. We leverage the power of Sunbelt by using principles like teamwork, integrity, loyalty and respect to help our customers and our employees lead better lives.
In the UK, we work in partnership with British Forces Resettlement Services ('BFRS') - a social enterprise created to help the armed forces community with their transition into civilian life. BFRS works with service leavers to provide them with the skills and opportunities they need to successfully resettle after leaving the armed forces
Charities
Gary Sinise Foundation
We are thrilled to enter the seventh year of our partnership with the Gary Sinise Foundation, which honours America's defenders, military veterans, first responders, their families and those in need. The foundation does this through the creation and implementation of unique programmes designed to entertain, educate, inspire, strengthen and build communities.
Our partnership focuses on supporting the Gary Sinise Foundation's R.I.S.E. (Restoring Independence, Supporting Empowerment), First Responders Outreach and Snowball Express programmes. Through these efforts, the foundation builds 100% mortgage-free specially adapted custom smart homes for severely wounded heroes and their families, serves the children of fallen military heroes and aids critical funding for emergency relief, training and essential equipment for America's firefighters, police departments and EMTs, respectively. In 2021 we expanded our partnership focus to include the foundation's Avalon Network, a cognitive health and mental wellness network that provides transformative care to veterans and first responders experiencing post-traumatic stress, traumatic brain injuries and substance abuse.
We supply the necessary equipment for each of the R.I.S.E. programme's projects to the contractors working on the home builds, at no charge. We also donate a portion of rental proceeds from co-branded Gary Sinise Foundation equipment and organise various localised fundraising efforts. This year, we contributed more than $0.9m in monetary and in-kind equipment donations to the foundation. Our goal is to bring heightened awareness to the foundation's work through continued fundraising and outreach initiatives in an effort to help positively impact the lives of veterans, defenders, and first responders. In 2021/22, we launched a national fundraising sweepstake with the chance to win a Ford Bronco, to raise further funds and awareness.
American Red Cross
We continue to work closely with our designated charitable partners, the American Red Cross and its affiliates such as the Second Harvest Food Bank for which we have a food drive every November in the US.
We allow employees to make payroll deductions to contribute to the American Red Cross or the Sunbelt Employee Relief Fund. On top of financial donations to the Red Cross, we send equipment and support to disaster-affected areas throughout the US to aid in relief efforts.
UK charity partners
In the UK, we work regularly with a number of charities including The Prince's Trust, Teach First and CRASH. The Prince's Trust supports 11-30 year olds who are unemployed, struggling at school and at risk of exclusion, in or leaving care, facing issues such as homelessness or mental health problems, or who have been in trouble with the law.
Teach First recruits and trains teachers, placing them in schools in low-income communities. Not only are we providing valuable funding to Teach First, the charity's teachers and pupils in partner schools also have the chance to work with Sunbelt volunteers across our business.
CRASH is the construction industry's charity that helps homelessness and hospice organisations with their construction projects. 2022 represents the twelfth year we have been a patron of the charity with our expertise and products helping a number of homelessness and hospice projects.