Being a responsible business has always been crucial to us. We are passionate about our people, the environment and the communities in which we live and work. We care deeply about making the best impact possible on all our stakeholders and we are proud of the impact we have had in helping our people, customers, suppliers and communities, especially through the most difficult of times over the last two years. When we announced our new strategic plan, Sunbelt 3.0 last year, for the first time, we embedded our ESG priorities. This added a layer of transparency and accountability to the work we do in this area and has placed ever greater emphasis on our environmental and social priorities. We have always said that being responsible is in our DNA but now it's front and centre, and visible in everything we do. Last year we launched important initiatives such as our new Diversity, Equity and Inclusion (DEI) taskforce and we are delighted that extensive progress has already been made in raising the profile of this important work group-wide. We are excited about the progress we are making and how our innate sense of purpose is driving real change across the organisation and deepening the sense of pride we all have in the work we do.
Ultimately our ESG efforts enable us to deliver on our promises and expand the trust that makes our business tick; trust that the equipment we provide will arrive on time and do what we say it will; trust that it will be well maintained and compliant with all health and safety requirements; trust that we are endeavouring to source the most environmentally friendly equipment as we can; trust that everyone involved in the rental process has been treated fairly, kept safe and well-rewarded; trust that we are not just taking from the communities in which we find ourselves, but are giving back real social value that can be measured.
Being a responsible business
Our goal is for our responsible business plan to be transparent, challenging and beneficial to everyone we interact with.
We analysed our commitments into four key areas: our people; the environment; our communities; and governance. Following an analysis of what is material to the business in each of these areas, we then divided each area into individual segments which focus on the specific commitments we are making.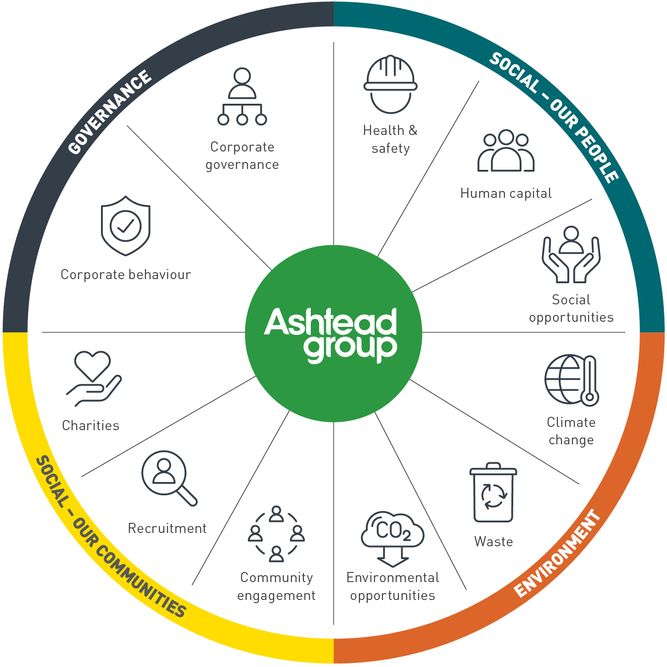 The world is changing and the impact of technological advancements, climate change, social action and unprecedented events such as the COVID-19 pandemic require ever greater attention and action. As part of Sunbelt 3.0, we are reinforcing ESG at the heart of how we operate, while unlocking the structural benefits ESG will bring to rental. Socially responsible behaviour has never been more important than in recent times. It is easy to treat people well in the good times but the true test of an organisation is how it responds in times of adversity. The decisions we made and the actions we took during the pandemic were made with a focus on the long-term sustainability of the business. Our early decision and communication to the workforce that no one would be made redundant as a result of the pandemic meant that our team members could focus on looking after their families, communities and our customers without having to look over their shoulder continuously.
The rental industry is hugely beneficial for the environment as it leads to the most efficient use of equipment and the manufacture of fewer assets. Significant carbon emissions and consumption of earth's natural resources take place during the manufacture of a piece of equipment. At the end of its life, that equipment requires disposal. Fewer, better designed pieces of equipment utilised as part of a sharing economy are better for our planet. Furthermore, our fleet consists of the most recent and technologically advanced equipment, which is well maintained and inherently better for the environment than older, less well-maintained equipment.
Our commitment to ESG is clear. Our industry has an important role to play in reducing carbon emissions both through bringing greener technologies to market and delivering the benefits of a sharing economy. However, as a rapidly growing business, our absolute emissions will increase in the near to medium term until technological advancements result in equipment capable of fulfilling our customers' needs with significantly lower or zero carbon emissions, which will enable us to reduce emissions significantly in the longer term.
UN sustainable development goals
The Group's activities help advance the United Nations Sustainable Development Goals (SDGs). We have identified the eight goals to which we believe we can make the most contribution through our focus on recruitment and training, focus on diversity, equity and inclusion, the development of our products and management of our operations.

How we monitor our work
The Group's board of directors is responsible for monitoring the progress we make against our strategic ESG objectives and the targets we have set. The Board is assisted in this function by the Group Risk Committee which is chaired by Michael Pratt, our chief financial officer. Included on the Group Risk Committee is the Group's managing director of ESG. Further details are provided within our Annual Report.