Health and safety is fundamental to our culture and it is at the forefront of everything we do. That has been shown dramatically most recently with our COVID-19 response.
A strong reputation for excellent health and safety is a significant competitive advantage for us. In addition, an ever-changing regulatory focus on safety and more stringent requirements for all operators continues to assist our growth. It is easier and cheaper to outsource responsibility for equipment safety to us than for customers to worry about it themselves. This has been an important factor in the shift to rental that has underpinned our growth in the US and reinforces our position in the UK. Similarly, it is a key differentiator in the Canadian market as we increase our presence there.
Our extensive health and safety programmes monitor, develop and maintain safe working practices while reminding our employees of the need to be safe at all times and look after their own health. Our continued improvement is accomplished through a combination of proactive safety and leadership training, enhanced safety programmes and timely incident response and investigation. We also help our customers ensure the safety of their own employees including providing safety training as required. In addition, we make a considerable annual investment in ensuring our rental equipment meets or exceeds the latest safety standards, as well as providing health and safety advice and materials along with each rental.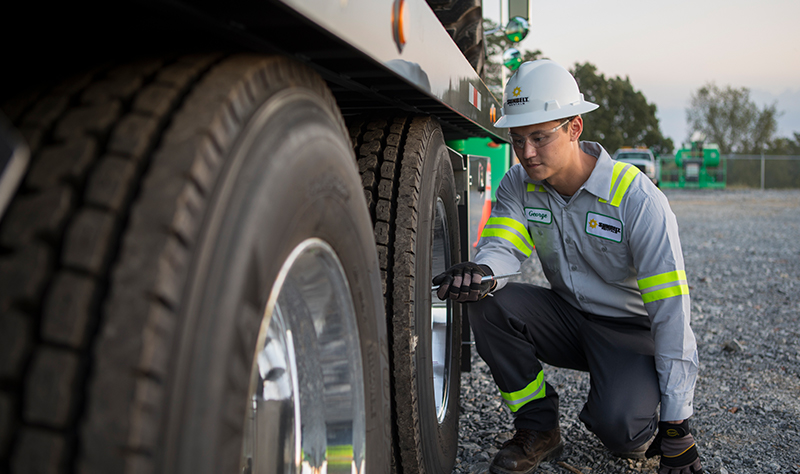 How we track health and safety
On a day-to-day basis, health and safety is tracked across the business by the number of reported incidents that occur during the course of our work. We track and analyse any incidents which occur to enable us to identify recurrent issues and implement preventative improvements across our business. The number of reportable accidents is one of our group-wide KPIs. For the purposes of our internal tracking, the term incident does not necessarily mean that an employee was hurt or injured. Rather it represents an event that we want to track and report for monitoring and learning purposes under our health and safety management policies. There are significant differences in how reportable accidents are defined in the US, Canada and UK due to differing legislation. For more information on our performance in this area see our annual report.
Safety initiatives
Historically, Sunbelt's safety efforts have focused on reducing or eliminating all incidents, regardless of the potential severity. The thought was that this approach would be the most beneficial in preventing more serious or catastrophic incidents. We recognise that the causes of less severe incidents are often different from the causes of serious or catastrophic events; therefore, we are focusing on events that have the potential to be serious or catastrophic so that we can eliminate or control our exposure to high risk situations.
Less serious events are not always predictive of more serious incidents. By evaluating high-risk situations and eliminating the noise will allow us to focus on the highest risks and implement more effective controls (using a hierarchy that starts with eliminating the exposure and realises that personal protective equipment is the last line of defence between our people and a hazard.)
A cross-functional team was created to develop our standards, tools and processes that will allow us to evaluate our operations and identify the tasks that have the greatest potential to lead to serious injury or event. All part of our mission to prevent serious or catastrophic events.
Health and safety training
Because of the reasons outlined above, our most comprehensive group-wide training programmes relate to health and safety. In our view, regular employee education and awareness training is the most effective way of improving and sustaining safety standards across the business. We have a continual process of educating our employees and customers about new and improved methods of ensuring employees operate in a safe environment.
Our North American transportation fleet continues to operate as one of the safest fleets in the equipment rental industry. Our commercial vehicle training programme is an on-going initiative across the US and Canada, which ensures that all our drivers are trained in vehicle safety and compliance. We continue to be among the leaders of our industry in continuously supporting the training and education of employees in commercial vehicle compliance and safety, including core training on hours of service, truck inspections, technology enhancements, load securement and hazardous materials.
In the UK, our driver training courses are aimed at delivery drivers and cover areas such as loading and unloading of vehicles, working at height, site safety and manual handling. All general drivers, including delivery drivers and fitters, are required to undertake the Driver Induction Course, which is delivered in the form of workshops and covers transport procedures, legislation, hazard perception and practical driver assessments.
Working with our customers and suppliers
Being a responsible business means sharing and promoting our safety culture with our customers and suppliers whenever possible. For example, we have dedicated aerial work platform, forklift and earth moving operator trainers who train customers and we offer customised training programmes to fill their needs. We work with customers' safety teams to develop customised training courses, sometimes for a specific jobsite and participate in training days for major customers, demonstrating safe use of equipment and running training seminars. This is in addition to the routine safety briefings that accompany equipment rental. We now offer dedicated full-time safety trainers for our customers in 50 markets across North America.
For more information on our performance in this area see our annual report.