We work to ensure any impact we have on the environment is a positive one. We are committed to providing the very latest and low and even zero carbon equipment available. For example, in the UK, we recently invested in the industry's first fully electric excavator.
Focusing on environmental impact helps assist our customers who are increasingly seeking ways to reduce their carbon footprint and enables us to reduce our impact and costs. It also helps our staff feel good about where they work and helps to build good relationships with the communities around our stores.
Our commitment to improving energy performance is intended to reduce our impact on the environment and should also deliver significant long-term cost savings. We can do this through managing our own performance and enabling that of our customers.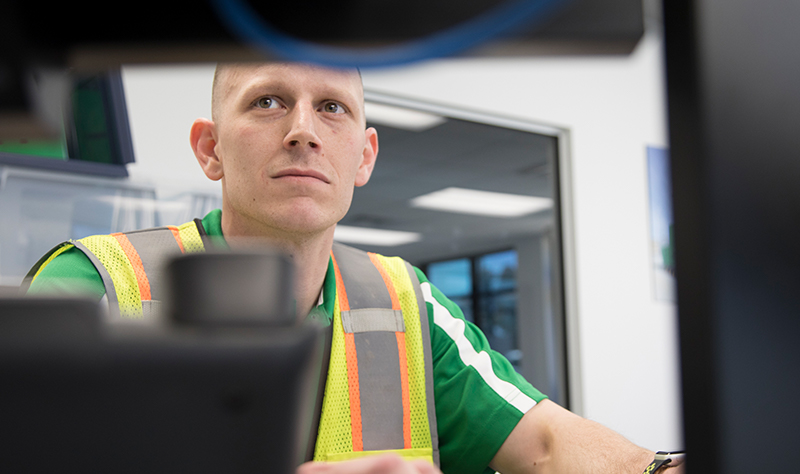 We seek to minimise our environmental impact in everything we do. One way of measuring how well we are doing is through our carbon footprint and the monitoring of waste and other environmental KPIs. Two elements of our business which have a significant impact on the environment are our rental fleet and delivery fleet. Our significant investment in the rental fleet in recent years has resulted in one of the largest Tier IV engine fleets in the US with older, pre-Tier IV fleet being disposed, while our cooling equipment uses environment and ozone-friendly refrigerants.
We also help our customers work in more environmentally friendly ways. Our containment berms enable chemical spills to be collected and stored safely until they can be transported away. We provide solar-powered light towers which provide light for up to 60 hours before they need a charge, to allow work to continue after dark without carbon emissions. Our ground protection helps minimize the environmental impact of foot and vehicle traffic, creating a buffer that, being washable unlike wooden mats which can absorb mould and contaminants, is also safely transferable.
We continue to invest in 'greener' equipment whenever we can and where it makes economic sense, sometimes also driven by customer demand. In addition to Tier 4 engine requirements, where we can, we purchase other more environmentally efficient equipment for a wide range of different applications. Customers can also opt to use less toxic biodegradable hydraulic oil for use in equipment operated in sensitive areas, for example. We also have industry leading availability of natural gas generators and hybrid light towers.
Environmental assessments and impact management are an important aspect of our business every day. We make extensive use of environmental information databases to ensure we comply with any requirements and have the appropriate permits to conduct business. When we open new locations or acquire businesses we undertake thorough environmental assessments to ensure they meet our environmental standards and do not pose an unacceptable risk to the business.
For more information on our performance in this area see our annual report.