Protecting the environment is not just the right thing to do; we believe rental has a significant part to play. The environmental benefits of renting equipment rather than ownership are clear. The Group purchases equipment from suppliers with strong reputations for product quality and reliability with whom the Group is working to reduce the environmental impact of equipment usage. Many customers using one piece of modern application-specific, world-class manufactured, well-maintained and safe equipment as part of a sharing economy is better for the planet. It results in the manufacture of fewer assets, use of fewer natural resources, more efficient use of assets, and finally, fewer assets reaching end of life and therefore requiring disposal. Maintaining our equipment to the highest standards and investing in the newest and most eco-efficient technology reduces emissions further during its use and extends equipment life.
We prioritised our environmental commitment as part of Sunbelt 3.0 to drive performance and enhance transparency regarding our activities and achievements. Our primary environmental goal is to reduce our Scope 1 and 2 carbon intensity per $m of revenue by 35% by 2030 and to achieve an interim target of 15% by 2024. In doing so, we are focusing our efforts on company-owned vehicles, which account for around 80% of our greenhouse gas emissions from operations. While remaining committed to reducing emissions in our own operations, we are also continuing to work as a partner in innovation with our equipment suppliers to develop and bring to market more efficient, lower carbon-emitting options.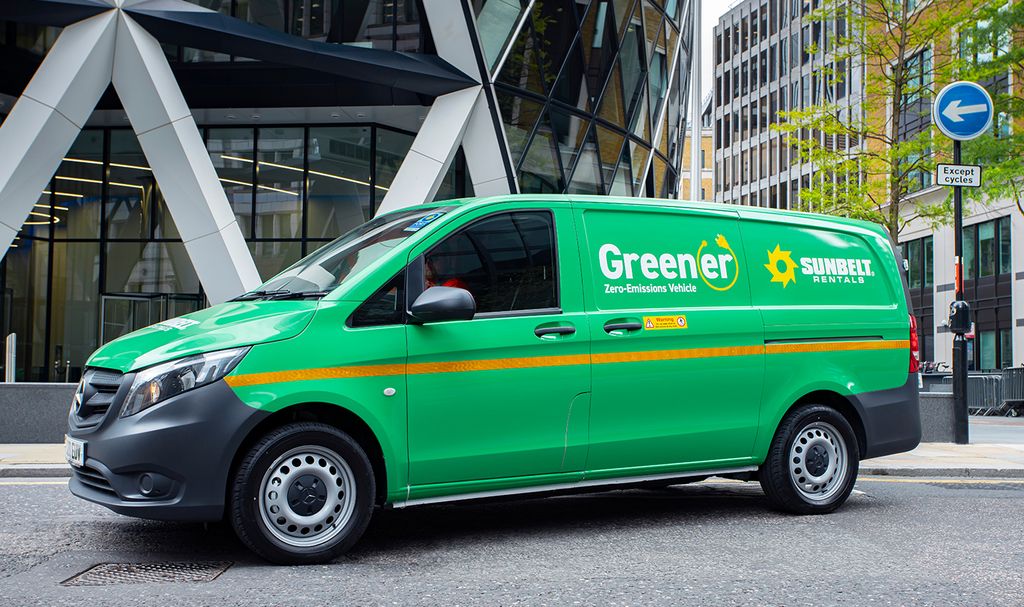 Climate change
Climate change has the potential to impact our business, both positively and negatively. For example, while we benefit from the diversified nature of our operations, adverse weather events or natural disasters could negatively affect economies and disrupt our business day-to-day. However, they could also increase the demand for our services as we respond to the needs of our communities managing and recovering from such events. Our climate change focus is centred on our impact on the environment and how we can reduce it through both our direct and indirect activities.
Waste

and water
Reducing waste going to landfill, increasing recycling and reducing water use are all part of Lead with ESG. We are strengthening our processes in these areas and establishing metrics and targets.
Our business model necessarily promotes less waste overall going to landfill because we are renting the same piece of equipment to many customers and maintaining it to such an extent that it has a long product life. If each of our customers were buying all the equipment they need, perhaps using it only a few times and then disposing of it, there would be considerably more equipment going to waste than with a rental model. We are working proactively with our supply chain to increase the amount of recycling of our equipment that can be done to avoid even obsolete equipment going to landfill.
Our approach to water stewardship is to focus our efforts where water is scarce. We have used the World Resources Institute's Aqueduct tool, which helps organisations identify their water risks, to map where we are operating in areas of water stress or high-water stress.
Water saving initiatives available to us include the use of closed loop wash systems where we reuse water many times over, as well as water recovery systems where we capture water run-off for use within wash-bays.
Environmental opportunities
Unlike many other companies, we believe an increased focus on the environment will also bring significant competitive advantage. There are two main factors contributing to this opportunity.
Firstly, as regulations change requiring greater use of lower carbon technologies, companies will voluntarily choose to use more environmentally friendly equipment. However, emerging technology is more complicated, requiring a different skill set to maintain, and more expensive, at least initially, than existing technology. Consequently, it will be more efficient for companies to rent equipment from us rather than buying it, providing an additional impetus to the shift from ownership to rental.
Secondly, the more extreme weather events associated with climate change, such as hurricanes, wildfires, and extreme precipitation and flooding, lead to the kind of damage that requires a rapid response and clean-up operations in which we are highly experienced. Our disaster response capability is one of the specialty areas in which we are known to excel and increased frequency of extreme weather events is likely to increase demand for our products and services.