As we expand our territory and service offering, we necessarily have more of an impact on the environments around our stores. We make every effort to ensure that our impact is a positive one and to limit any negative impact we may have in the course of our work.
This helps us save on costs, on any potential damage to our reputation and also helps build that level of trust our customers require. It also helps our staff feel good about where they work and helps to build good relationships with the communities around our stores.
At Sunbelt, the Safety, Health and Environmental department works to improve organisational awareness and focus on our environmental initiatives with regional safety managers who are also responsible for bringing awareness and compliance to environmental initiatives. Regional safety managers are fully trained and capable of identifying risks associated with safety and environmental issues.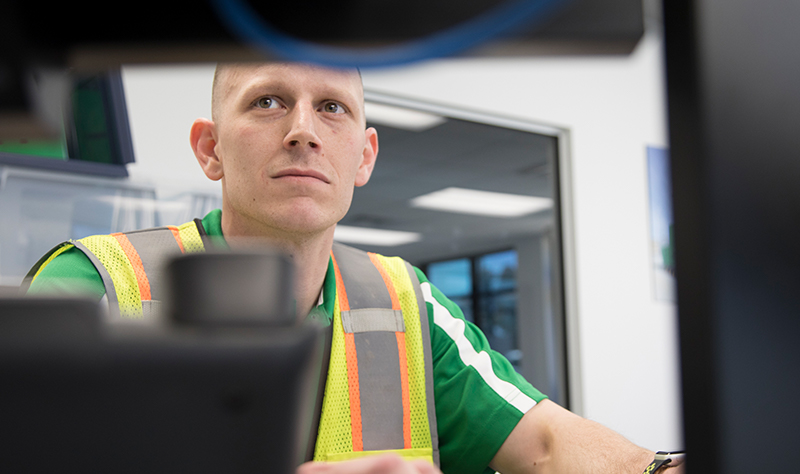 We conduct environmental reviews for all our newly acquired stores and plans are then developed to bring them up to Sunbelt's tough standards. Our environmental team provides input into the process for building new sites that often results in stores that exceed local environmental requirements.
There are numerous laws governing environmental protection that affect our business and we are committed to taking reasonable actions to minimise the risk of adverse impact on the environment from our business. In addition, the equipment we rent is subject to increasing environmental regulations.
We seek to fulfil our environmental obligations through:
diligently tracking pertinent environmental regulations and requirements and carrying out self-audits to maintain compliance;
investing in the regular renewal of our rental fleets to ensure that the equipment we provide to our customers mostly incorporates the latest environmental technology available from our chosen manufacturers;
ensuring that our stores are adequately equipped to operate in a safe and secure way, protective of the environment. Key matters covered are: wash-down bays to collect and safely dispose of materials released when we inspect and clean equipment returned from rent; enclosed paint booths and spray shops to ensure that repainting of equipment can be conducted safely and securely; bunded fuel tanks to ensure secure fuelling of our fleet and, where relevant, vehicles;
ensuring proper arrangements are made, through the use of reputable vendors, for the collection and disposal of waste fuels and oils, tyres and other old or broken parts released as we service and maintain our rental fleets;
investing in a modern and efficient delivery truck fleet which enables us to ensure that our vehicles are purchased with regard for good emissions management and fuel efficiency;
ensuring, wherever practicable, that we control noise and potential disruption in and around our depots so as not to unduly impact the communities immediately surrounding them; and
reducing our waste to landfill by significantly increasing the amount of waste that goes to recycling.
We have supported the initiatives of the Carbon Disclosure Project in the management of carbon dioxide emissions and have reported on our carbon emissions voluntarily for a number of years now and sought to reduce these over time. Under the Companies Act 2006 (Strategic and Directors Reports) Regulations 2013 we are now mandated to report greenhouse gas (GHG) emissions data. As we are a growing business with aggressive expansion plans, our absolute GHG emissions will necessarily increase. However, we continue to evaluate how best we can limit that increase and mitigate the impact. Further information is provided in the annual report.
Wherever we can and where it makes economic sense, we invest in 'greener' equipment, sometimes also driven by customer demand. I In addition to the Tier 4 engine requirements in the US, where we can, we purchase other more environmentally efficient equipment for a wide range of different applications. Customers can also opt to use less toxic biodegradable hydraulic oil for use in equipment operated in sensitive areas, for example. We also have industry leading availability of natural gas generators and hybrid light towers. In the UK, A-Plant also continues to invest in eco-friendly equipment as our customers demand eco-friendly equipment such as power and hydraulic oil-free platforms, and bio-fuel powered equipment.
Environmental assessments and impact management are an important aspect of our business every day. We make extensive use of environmental information databases to ensure we comply with any requirements and have the appropriate permits to conduct business. When we open new locations or acquire businesses we undertake thorough environmental assessments to ensure they meet our environmental standards and do not pose an unacceptable risk to the business.
On big, long-term construction sites, we are prepared to place pools of our equipment at the job-site enabling equipment to be sourced on site and thereby reducing the site's overall transportation needs. Our Auto Tool Hire Units in the UK and Gear Box in the US allow the storage of smaller tools at the job-site. These on-site initiatives reduce the need for item by item delivery, thereby helping to cut distribution emissions.
Go Green OC

Go Green OC (Ocean City) launched a month-long pilot programme to measure composting practices at a resort restaurant dedicated to initiating zero waste goals.
Restaurant waste in Ocean City is being transported to a nearby farm for composting. We have donated earthmoving equipment to help move the soil and to enable the organic matter to fully decompose. This is a new programme for an area that uses waste incinerators currently. The goal is to remove 50 percent of the trash from the waste stream. The compost will not be sent off to the waste incinerator, which will reduce the amount of weight being put into the waste stream. It is also less expensive to move compost locally to a farm, than to send it three hours north to be burned.