Protecting the environment has always been an important element of how we work. Now it is front and centre of our strategic plan, Sunbelt 3.0, with 'Lead with ESG' one of our five actionable components to enhance transparency regarding our commitments and achievements. Our biggest commitment in this area is to decrease our carbon intensity by 35% by the year 2030, with a shorter-term goal to reduce carbon intensity by 15% by 2024.
We believe this is not just the right thing to do but will bring us significant competitive advantage. Renting equipment rather than buying it is already the most environmentally friendly way to use equipment. We believe rental is essential to environmental progress, designing out waste, reducing emissions and keeping products and materials in use, thereby assisting the regeneration of natural systems rather than depleting them consistently.
We are committed to providing the very latest, low and even zero carbon emission equipment available. We also increasingly help our customers work in more environmentally friendly ways. We already offer the most comprehensive range of green equipment available in the market but we are committed to working closely with all our suppliers to help them develop the most environmentally sustainable equipment that we can then buy. Around 20% of our rental fleet is powered by alternatives to traditional diesel power, including battery, electric and hybrid options. The large majority of our diesel-powered fleet also meets the most stringent North American and European emissions requirements. However, we are not content with simply being a buyer of next generation equipment; we want to influence and support our larger suppliers to accelerate the shift to a low-carbon economy. So, we work closely with them to help them design, develop, trial and bring to market innovative, environmentally-sustainable equipment, including electric versions of the most widely-used pieces of rental equipment.
We are in a good position to influence how new products are developed and used through our relationship with customers and manufacturers. We are therefore in an ideal position both to understand customer demand for greener equipment and support manufacturers to meet these needs with their product development. At the same time, our desire to invest in new and greener technology demonstrates to manufacturers there is demand for their new products. Finally, by bringing new products to a wide audience of customers in the rental market we help develop acceptance of new equipment and drive further demand.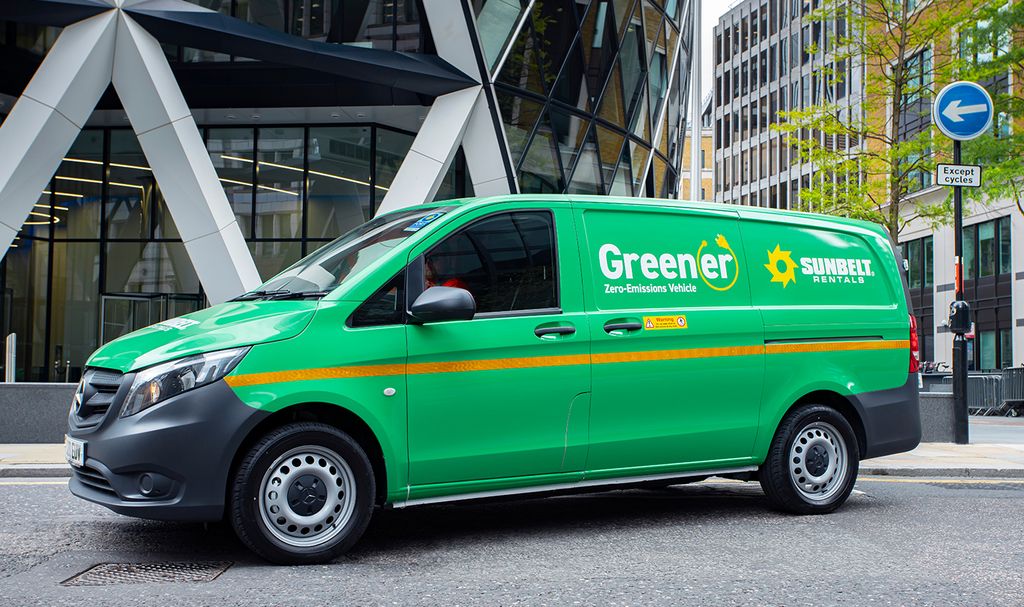 Climate change
Like any other business, climate change has the potential to impact ours, both positively and negatively. For example, adverse weather events or natural disasters could negatively affect economies and disrupt our business day-to-day but also increase the demand for our services as we respond to the needs of our communities in recovering from such events. Our climate change focus is on our impact on the environment and we can reduce it through lower carbon emissions, waste and water usage.
Our commitment to improving energy performance and reduce carbon emissions is intended to reduce our impact on the environment and should also deliver significant long-term cost savings. We can do this through managing our own performance and enabling that of our customers.
Waste
We are focused on reducing waste to landfill and the amount of water we use.
Our business model necessarily promotes less waste overall going to landfill because we are renting the same piece of equipment to many customers and maintaining it to such an extent that it has a long product life. If each of our customers were buying all the equipment they need, perhaps using it only a few times and then disposing of it, then there would be considerably more equipment going to waste than with a rental model. We are working proactively with our supply chain to increase the amount of recycling of our equipment that can be done to avoid even obsolete equipment going to landfill.
We are actively pursuing programmes to reduce the volume of the waste we produce in all our territories. We are working with suppliers to reduce the packaging included with products we procure and are partnering with suppliers to develop takeback programmes for equipment packaging and protective materials. We offer recycling at our owned rental sites, partnering with suppliers to enhance the recyclability of products.
Environmental opportunities
Unlike many other companies, climate change represents more of an opportunity than a risk for Ashtead, which will also bring us significant competitive advantage. There are two main factors contributing to this opportunity.
Firstly, as regulations change requiring greater use of lower carbon technologies, companies will voluntarily choose to use more environmentally friendly equipment. However, as we see today, emerging technology is more complicated and expensive, at least initially, than existing technology. As a consequence, it will be more efficient for companies to rent that equipment from us rather than buying it themselves. So climate change will provide additional impetus to the shift from ownership to rental that we talk about often in this report.
Secondly the more extreme weather events associated with climate change lead to the kind of damage that requires a rapid response and clean-up operations in which we are highly experienced. Our disaster response capability is one of the specialty areas in which we truly excel and are well known. While not linked directly to climate change, our disaster relief capabilities were immediately called upon to assist with management of the COVID-19 pandemic in the US, Canada and the UK, even under lockdown across all territories.