Playing a big role in our local communities is crucial to our work in all our markets.
As we expand our market share, particularly in the US and Canada, we have ever more impact and influence, enhancing the communities in which we operate, through employment, opportunity and community involvement. Our responsibility to those communities increases as we grow. We have a big social impact on the communities where we work through the provision of sustainable local jobs. It is crucial to us that we recruit locally when we can. We also have a huge impact on both our own communities and those further afield through our disaster relief work with communities in distress from a wide range of factors.
Our staff feel great pride in providing a service for their community so everyone benefits. Our business is about helping people and getting things done. It is about finding solutions, especially when there has been an emergency or a disaster like a major flood or a hurricane. Contributing to the communities where we operate is an important differentiating factor for Ashtead staff, as well as being attractive to new recruits.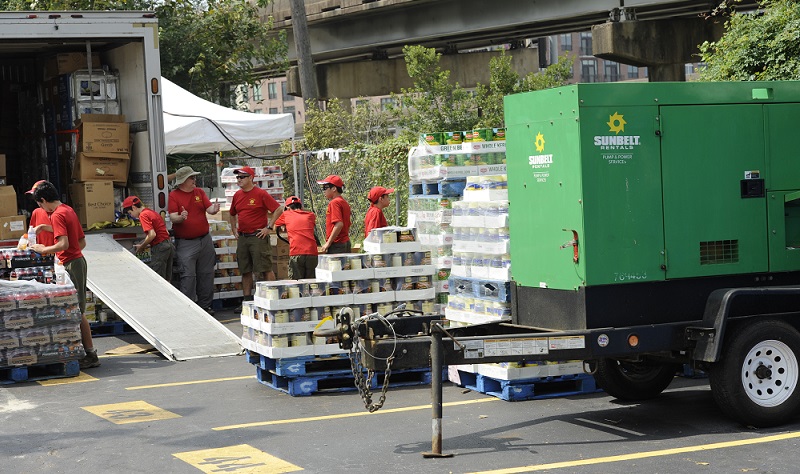 Community initiatives
In the locations where we work, we have multiple community-based programmes which often tie in well with what we do and how we do it. Raising our profile in the community in this way is completely consistent with our desire to do more in terms of the quality of life of our staff and their families.
Our stores regularly support and participate in local charity events and community service. For example, we provide support to many community sporting events. We also continue to work closely with our designated charitable partners, the American Red Cross and its affiliates such as the Second Harvest Food Bank for which we have a food drive every November in the US. We allow employees to make payroll deductions to contribute to the American Red Cross or the Sunbelt Employee Relief Fund.
In the UK, The Prince's Trust is our primary charity partner. The Prince's Trust supports 11-30 year olds who are unemployed, struggling at school and at risk of exclusion, in or leaving care, facing issues such as homelessness or mental health problems, or who have been in trouble with the law. In addition, we have also committed to working with Teach First which recruits and trains teachers, placing them in schools in low-income communities. Not only are we providing valuable funding to Teach First, the charity's teachers and pupils in partner schools also have the chance to work with Sunbelt UK volunteers across our business.
For more information on our performance in this area see our annual report.