At Ashtead we take pride in giving back to the communities in which we operate and from which we recruit. Our involvement is at both a corporate and a local level and where possible we seek to align our efforts with our own operations.
Our stores regularly support and participate in local charity events and community service. For example, we provide support to many community sporting events, including sponsoring a local softball team in Dallas and various charity golf tournaments across the US. We also continue to work closely with our designated charitable partner, the American Red Cross and its affiliates such as the Second Harvest Food Bank for which we have a food drive every November. We allow employees to make payroll deductions to contribute to the American Red Cross or the Sunbelt Employee Relief Fund.
In the UK, A-Plant has chosen The Prince's Trust as its primary charity partner and will be looking to raise funds and engage in volunteer work. The Prince's Trust supports 11-30 year olds who are unemployed, struggling at school and at risk of exclusion, in or leaving care, facing issues such as homelessness or mental health problems, or who have been in trouble with the law. In addition we have also committed to working with Teach First which recruits and trains teachers, placing them in schools in low-income communities. Not only are we providing valuable funding to Teach First, the charity's teachers and pupils in partner schools also have the chance to work with A-Plant volunteers across our business.
You can find out more about our community involvement in our annual report.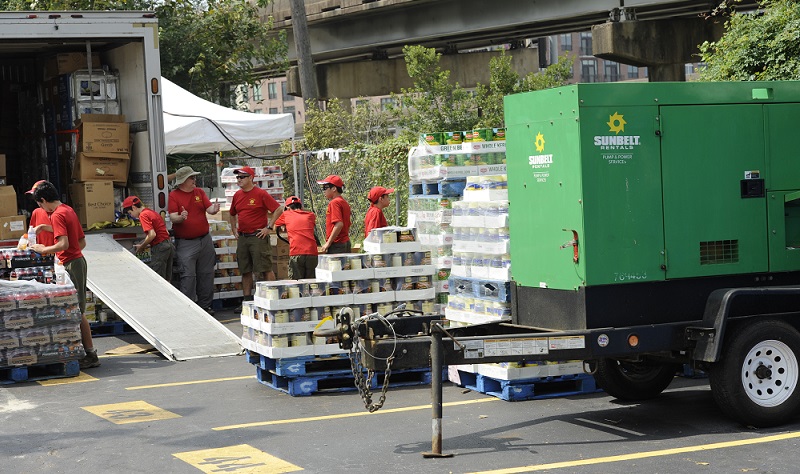 Gary Sinise Foundation
We are now in our fourth year of supporting the Gary Sinise Foundation which honours military veterans and their families through the implementation of unique programmes designed to entertain, educate, inspire, strengthen and build communities.
One of the Foundation's core programmes is R.I.S.E. (Restoring Independence, Supporting Empowerment), which builds specially-adapted custom smart homes for severely wounded heroes and their families so they may gain more independence in their daily lives. Sunbelt's commitment to community and veteran support led to a partnership with the Foundation and R.I.S.E.. Through this partnership, Sunbelt supplies tools and equipment to the contractors on each of the home builds, at no charge. Last year we contributed $1 million to the Foundation. This year we plan to expand further our fundraising and community outreach efforts through new tactics and initiatives. The ultimate goal is to bring heightened awareness to the Foundation's work and raise funds to help positively impact the lives of even more veterans.
American Red Cross
Sunbelt and the American Red Cross share a passion for assisting with relief efforts in times of need.
On top of financial donations to the Red Cross, Sunbelt often sends equipment to affected areas from locations across the US, to aid in relief efforts and to help communities rebuild.