Building a platform for growth
The first of our strategic priorities is to build a broad platform for same-store growth supplemented by small bolt-on acquisitions and new greenfield sites. Our platform is not only our physical stores but our people and delivery fleet. You can see from the maps how we have made an enormous impact on the US market since 2012 and how much potential there still is to grow. We have added over 450 new locations in the US since we embarked on our strategy for growth in 2012. Anything in green on the map is where we already have over 10% market share. Areas in dark green are where we have over 15%. It is only a matter of time before we achieve similar results across a broader geography because we now have the scale, competitive advantage and balance sheet strength to reach our targets. We believe there is significant opportunity for expansion in both existing and new geographies, with the ability to reach our initial target of 875 locations in the US earlier than planned and then go further.
We also see similar opportunities to build a broad platform as we expand in the Canadian market. When we entered the market in 2014 we had six locations in Western Canada. We now have 67 locations with a growing presence in Eastern Canada and we plan to expand in the interior provinces. We will achieve this through a combination of new greenfield sites and acquisitions.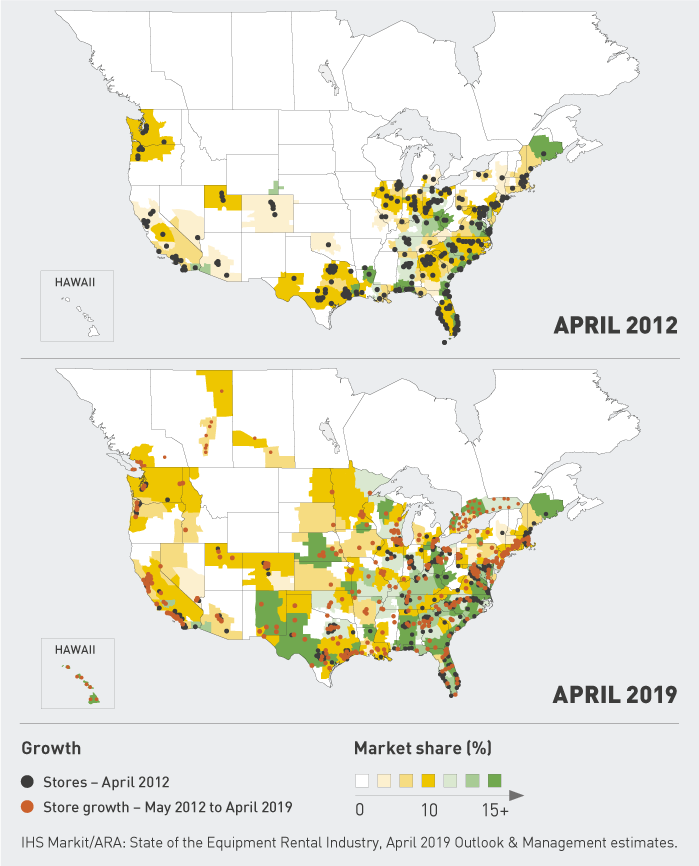 There is a drag on margins when we open new stores but they improve quickly as they deliver more revenue and later broaden the fleet and customer mix. The same happens with acquisitions because we buy businesses that we can improve, either operationally or through additional investment, or both. However, our focus remains on same-store growth which generates the best returns. This same-store growth is supplemented with greenfields, either building out clusters or entering new markets. This investment drove organic growth of 15% which is part cyclical market growth and part structural growth. So even if the market stops growing, our stores can continue to grow because that structural part of the growth is independent of the market. This is why we are consistently able to out-perform both our competitors and the market. The strength of our brand and reputation means that new greenfield sites become profitable very quickly. We are pleased to report that this is also the case in Canada where in five years, we have gone from being unknown to now being a recognised and trusted partner.
Structural growth is people choosing to rent more equipment (increased rental penetration) and the big getting bigger (increased market share). We are able to keep growing because we prioritise investment in the fleet and have the financial security to be able to do that. Our customers want good quality fleet, readily available to meet their needs. Investing in a broad range of fleet and backing that up with great service means our customers remain loyal and do not need to look elsewhere. Prioritising higher return on investment ('RoI') products further helps our growth.
We are always on the lookout for the best opportunities and the flexibility in our model enables us to act quickly when we need to, whether that be opening a new greenfield site or making an acquisition. We are also flexible in the mix of greenfields and bolt-on acquisitions depending on the opportunities we see. Further diversifying the business is also a priority and opportunities that allow us to diversify and expand our specialty businesses are particularly key to our strategy of building a broader base for growth.
Specialty markets are typically characterised by low rental penetration and a predominance of small local players. We continue to see further opportunity as we consolidate and improve the service offering leading to market growth from increased rental penetration as our customers become accustomed to the quality of our offering.
As mentioned elsewhere, we are building our rental penetration through expansion of the types of equipment we rent. As well as our specialty businesses, we are increasingly focused on developing the rental penetration of the smaller end of our product range.
One of the ways that we are encouraging customers to think about hiring smaller tools is by making it as easy and cost-effective to hire them as it is to hire larger equipment. For example, ToolFlex is a subscription-type service that allows customers to hire and exchange a set number of tools and equipment as often as they want for a flat fee per month. This fee is cheaper than if the items were to be hired individually and the programme is proving very popular with smaller customers.
Our cluster approach is also an important aspect of building a broad platform for growth. Our greenfield sites are chosen carefully to enhance our existing business. We focus on building clusters of stores because they access a broader range of markets unrelated to construction leading to better margins and RoI.
A top 25 market cluster in the US has more than 15 stores, a top 26-50 market cluster more than ten stores and a top 51-100 market more than four stores. We also include the smaller 101-210 markets within our cluster analysis. We have found that these markets, while performing less well than others overall, often prove more resilient when times are less good. Our definition of a cluster in these markets is two or more stores. Creating clusters is also a key element of our expansion strategy in Canada which also helps us increase the specialty business element of what we can provide for customers. With the advanced technology we have in place, we are able to analyse local market data very accurately. This allows us to find similarities between certain US and Canadian centres, and model our growth plan accordingly. The more customers get to know and trust us, the faster our growth becomes.
We focus on ensuring our clusters meet the multiple needs of local customers even if that means some stores may appear superficially to perform less well than others. The interaction of the stores in a group is what gives us real competitive advantage. We find that having one large anchor location is highly desirable and we like to mix up the large equipment locations with smaller general tool stores. The addition of specialty stores serves to really differentiate us from competitors in the area. Average revenue per store is not a relevant measure with which to evaluate the success of individual clusters or even the business as a whole. The value is in the mix.
Operational exellence
The second of our strategic priorities is constantly improving our operational capability and effectiveness, doing what we do to the very best of our ability.
Financial & operational flexibility
The third of our strategic priorities is maintaining financial and operational flexibility, enabling us to flex our business and operational models through the economic cycle.